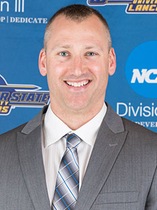 Dean is a PGB Central Coach and Master Trainer from Worcester, Massachusetts.
Coach Learning from Members
PGB has empowered me due to the members that I impact. I see the drive, enthusiasm, progress each class, each tier and that drives me to be a better coach and mentor in and outside the class. 
PGB has helped me empower others by setting high expectations for myself and the members in my classes. These high expectations aid in the knowledge, skills, and abilities of those in the class. We sweat, swear, have fun and move forward together as a community. 
"Continuous effort-not strength or intelligence-is the key to unlocking our potential." -Winston Churchill
As a male coach in a woman's program, I always find myself learning from my members- PGB and non-PGB related. This plays a role in both the development of our community and both of our achievement capabilities. The fun comes easily! We have crazy music all of the time, plenty of dance and "karaoke parties," and celebrate success anytime we can!