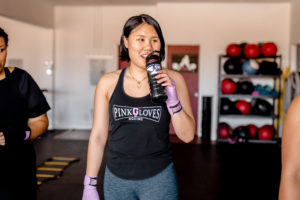 Master Instructor and Tier 7 Boxer from  Akron, Ohio
Jan's Story
Pink Gloves Boxing was my last chance at making friends on campus and before I knew it, I had a community of friends. The first semester of freshman year was daunting and I was in such a hurry to put myself out there and meet new people. Seeing posters around campus about Pink Gloves Boxing and going to a demo class, I was hooked. Spring semester comes around and I'm feeling super excited to start with PGB classes that couldn't stop talking about it to my friends. 
PGB has become a part of me ever since. I went from this quiet boxer who didn't speak so much about myself during cool downs, to being an outgoing, confident, not so quiet and smiley boxer and instructor. If it weren't for my instructor-boss-old boss-friend, Angie, I may not have been where I am today and who I am today. Being an instructor has helped me be more comfortable with talking to people and having an audience's attention all on me. It has taught me how to be a better leader, a better public speaker, and a better person in general. I have met a lot of amazing, bad ass, kick-ass, goal-getting, motivated and diverse women through Pink Gloves Boxing. I have created friendships through PGB that I know will last forever outside of PGB. 
PGB has empowered me to be a better version of myself; to keep myself accountable for the things that I have set in as goals and achievements; to become a better leader and team player; and to put myself out of my comfort zone and do things I would normally not do or say I want to do but don't actually do it. 
I have empowered others in different ways — whether that is through inspiring others to get involved in fitness; inspire others to embrace their culture, bodies, journey, and their experiences; and to show myself as an example to others who may relate and motivate themselves to make a change or make a move. 
How have the three tools of empowerment revealed the champion within you and/or the members? 
I have so much fun in PGB and have tried to create my own fun through PGB. Fun: rock climbing together; going to one of the campus events as a class; bringing baked goods and sharing with the class; and having class outside when it's nice and sunny out. Community is built through bonding time; going out for happy hours and half price appetizers, outside class hitting and holding. Achievement: I went through a series of self growth and self healing with the help of PGB ladies who were open and caring.